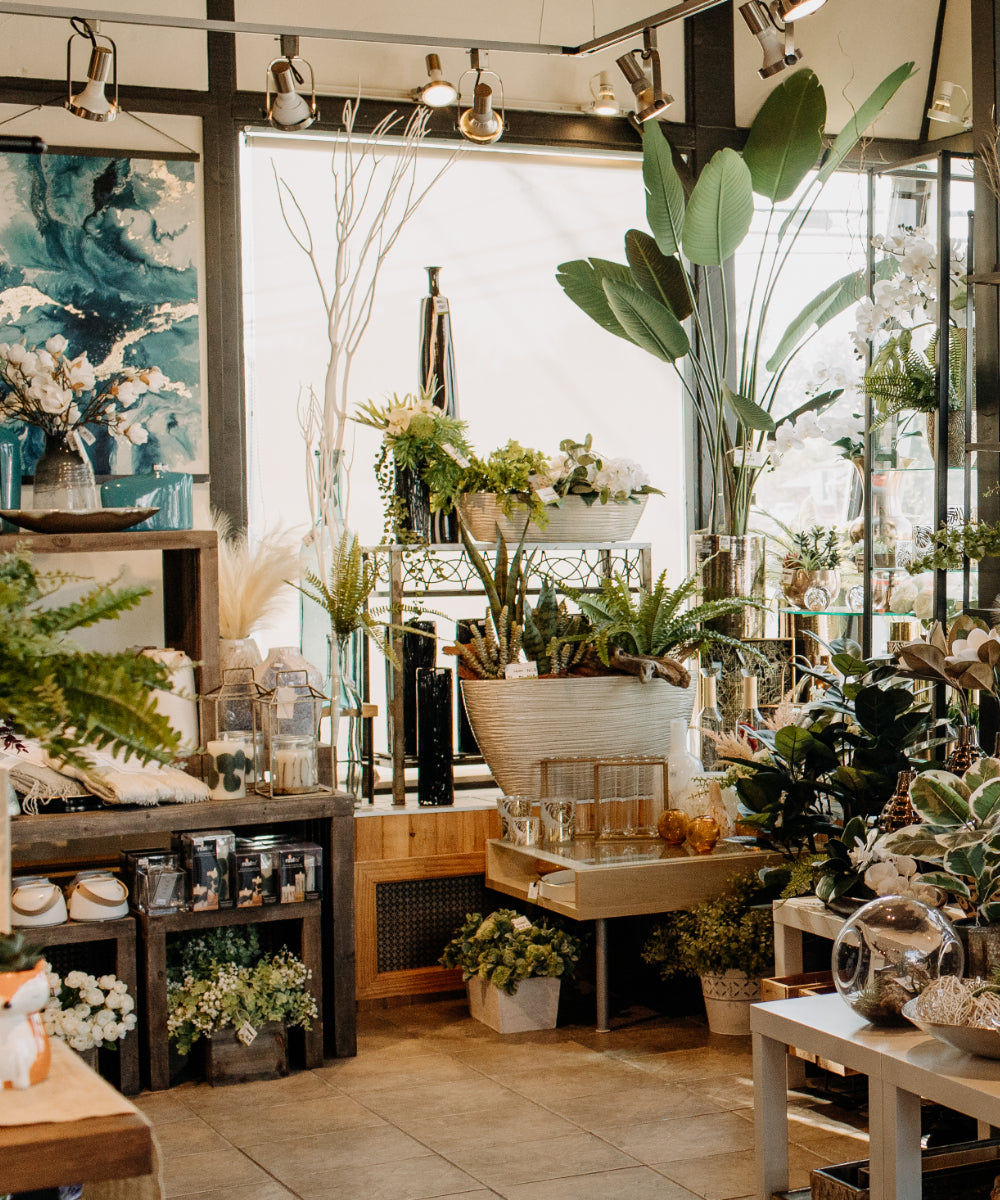 Passionate about flowers and gifts for 55 years
À la Boîte à Fleurs de Laval was founded in 1966 by Denise Locas. This woman of extraordinary talent and determination managed the business for nearly 30 years, before handing over the reins to her daughter Francine Locas-Joly in 1995.
Francine was able to pass on to her daughters Stéphanie and Marie-Ève the values of love and passion for what they do, one Côté Fleurs, the other Côté Gourmet. This is the great strength of our team. Together, we continually renew ourselves, dare to go for it to reach our goals and make the boutique shine even more.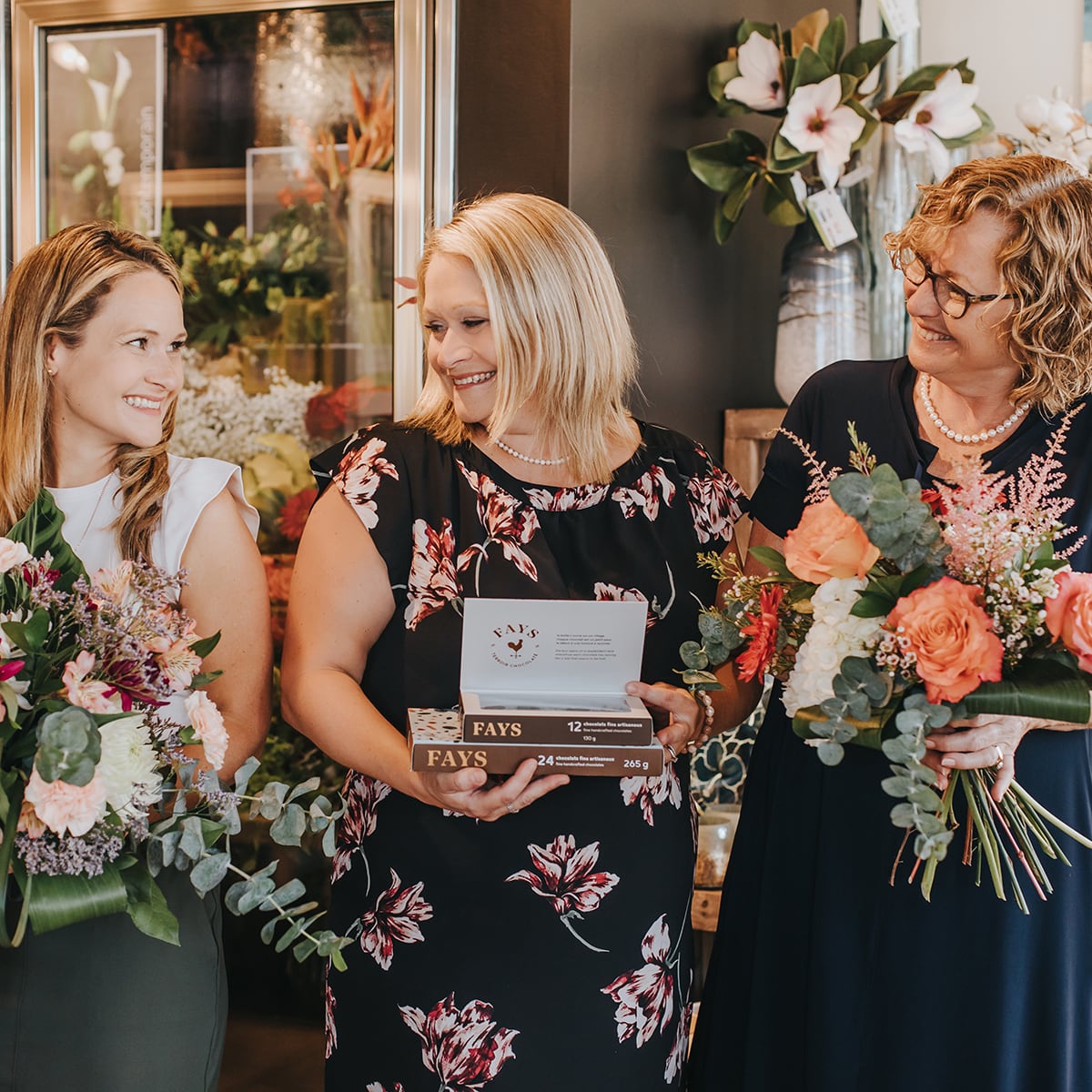 Brand values
Respect for people, our team, business partners and customers is the most important thing at the store. Respect for the uniqueness of each of us on the team is reflected in the work we do. This is how we develop trusting and evolving business relationships.
To stand out, striving for excellence is an important value. Our decisions are made based on the quality of the product and the service we offer, which allows us to grow the company and to surpass ourselves as human beings.
Currently, more than 60% dof our suppliers are women-owned businesses. With our We Connect International Certification , we are investing more in Quebec, and in women as well. When a company chooses us, it is also encouraging many women-owned businesses. The impact is exponential.
We also contribute to the collective effort to take care of our planet. We promote the purchase of fair trade and local flowers and make major investments in the purchase of local products. Our gift boxes are made of fully recyclable materials.
A team at the forefront
Thanks to long term work and major investments, our woman-owned company stands out in a majestic way. Our innovative vision allows us to shine on a larger scale and to give local artisans a branded showcase.
With the support of the Réseau des Femmes d'affaires du Québec and our We Connect International Certification, we have developed strategic alliances with large corporations such as Desjardins and Staples Canada.
With the pandemic, the demand for 100% logift boxes was exponential, and we were able to respond well to the demand. We are proud of this!
Our entire qualified team contributes to the success of the store and its reputation. Each of our employees has a special place in the store, and each one of them surpasses themselves day after day to contribute to its growth and to offer our customers an outstanding service.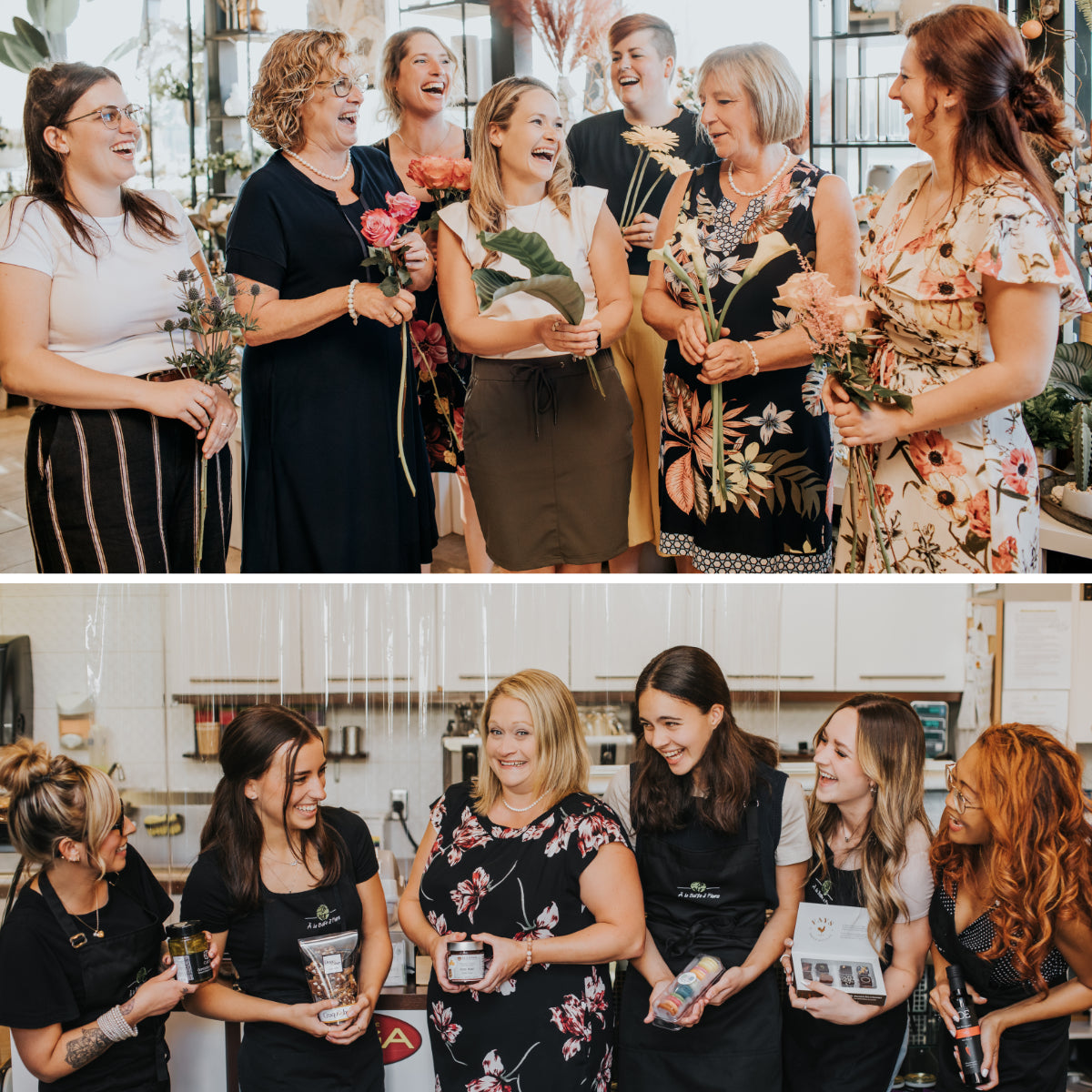 In the media
À la Boite à Fleurs is an accessible florist that meets the needs of a diverse clientele. Also, over the years, we are proud to have been present at major festivities and to have collaborated with major celebrities
For many years, we have worked with renowned companies such as Alimentation Couche-Tard, Quebecor World Media, Les Productions J, Les Productions Feeling and many others
À la Boîte à Fleurs has also been a proud partner of many causes and events such as STAR ACADÉMIE, the Montreal-Quebec series, the launch of the Dr Azar | Angélil ENT Oncology Research Chair, the Canadian Cancer Society, as well as the Heart and Stroke Foundation.
Our team
Owner Since 1974

Francine

Her love of flowers is contagious! She shares her inspirations and vision with such passion! Driven and motivated by travel, she constantly comes back with new finds to share with us at the store!

Director of the Florist Division Since 2000

Stephanie

Creative and ambitious, Stéphanie loves challenges! Her mission? Always renew herself and create "Wow!" with the help of her team! She transforms each event into an even more magical experience! She is also the one who exchanges with you on social networks, sharing trends, discoveries, tips & tricks and more!

Director of the Gourmet Division Since 2010

Marie-Ève

It is thanks to Marie-Ève that L'Espace Gourmet is what it is, that it is so successful! Always listening to her customers and always on the lookout for new gourmet discoveries, she is constantly on the lookout for new, original and high quality gourmet products to fill her shelves. She never hesitates to share her culinary tips and pass on her passion for her sweet and savory pleasures!

Floral Designer Since 2001

Cécile

With a refreshing sweetness, Cécile is a gem of a florist! Her creations are neat and original! She has an incredible talent! Her constant good mood, her dedication and her great talent make her a source of inspiration!

Floral Designer Since 2015

Joanie

In addition to her DEP in Interior Design & Visual Presentation, Joanie is a very neat and delicate florist. Her interest in interior design and decoration is an asset to the team! She exudes finesse and refinement and has an incredible concern for listening to her clients.

Manager at Espace Gourmet Since 2012

Véronique

A stop at L'Espace Gourmet with Véronique is definitely a discovery of new flavors! With an excellent knowledge of her products, we love her sparkling personality and her taste for adventure!

Consultant Since 2021

Amélie

Côté Fleurs & Côté Gourmet, Amélie will know how to advise you perfectly! With a DEP in Floristry from the Centre de Formation Horticole de Laval, she is passionate about Quebec products and likes to share them with us via social networks. She is a cat lover and very concerned about the environment.

Floral Designer Since 2019

Catherine

Catherine welcomes you to the boutique and makes your bouquets. A graduate of a DEP in Floristry from the École des métiers de l'horticulture de Montréal, she did her last internship at the boutique and has remained on the team ever since. Creative and manual, she also studied cinema.

Espace Gourmet Consultant Since 2019

Aurélie

Completing her college studies in Human Sciences with a focus on psychology, Aurélie will welcome you to the Espace Gourmet with enthusiasm. Passionate about volleyball, iced coffee and downhill skiing, she also loves listening to music!

Consultant at Espace Gourmet Since 2021

Mia

Mia is the one who welcomes you and prepares your gift wrapping. She is a surprisingly mature person who cares about people! She loves movies and hiking. A high school student, she hopes to become a university teacher of literature or art history.

Espace Gourmet Consultant Since 2019

Malay

Originally from Laos and in Quebec since the age of 6, we say that Malay is our second mother: she watches over us, cooks small meals and offers her round of coffee. She has a heart on her sleeve. Hardworking and versatile, always ready to help both Côté Fleurs and Gourmet. She is a big movie buff and loves poutine, sugar shack, apple picking, roast beef and casseroles.

Deliverer Since 2016

Alain

Alain is a full-time delivery man who loves to camp and cook & eat well! Master in the art of finding the best route to avoid traffic and knowing perfectly the streets of Montreal, deliveries are well managed, punctual and especially in very good hands.

Deliverer Since 2011

Serge G.

You will also see him ringing your doorbell with flowers in hand! Serge is a very accommodating and efficient man! He is also constantly looking to improve the service that is offered to customers. We love his kindness and courtesy!

Espace Gourmet Consultant Since 2019

Laurence

Currently studying Humanities in order to later work in criminology, Laurence is passionate about cheerleading. Discreet, you will discover a smiling and meticulous woman who will answer all your Côté Gourmet questions.
Discover our online store
Store from our selection of flowers, plants, gift baskets for all occasions, everlasting roses, funeral arrangements, corporate gifts & other products. We have everything you need and more!
Your Shopping Cart (
0

)

||title|| was added to your cart.

||count|| items were added to your cart.
X